"We travel not to escape life, but for life not to escape us" 
Today we went to see 2 major markets: the Damnoen Saduak floating market and the train market Talad Rot Fai. It was really interesting!
To get to the floating market, we drove about an hour and a half outside of Bangkok, and then took a long boat for about 20 minutes. This part was my favourite! Boating through the multitude of small canals, seeing Thai homes, was really interesting.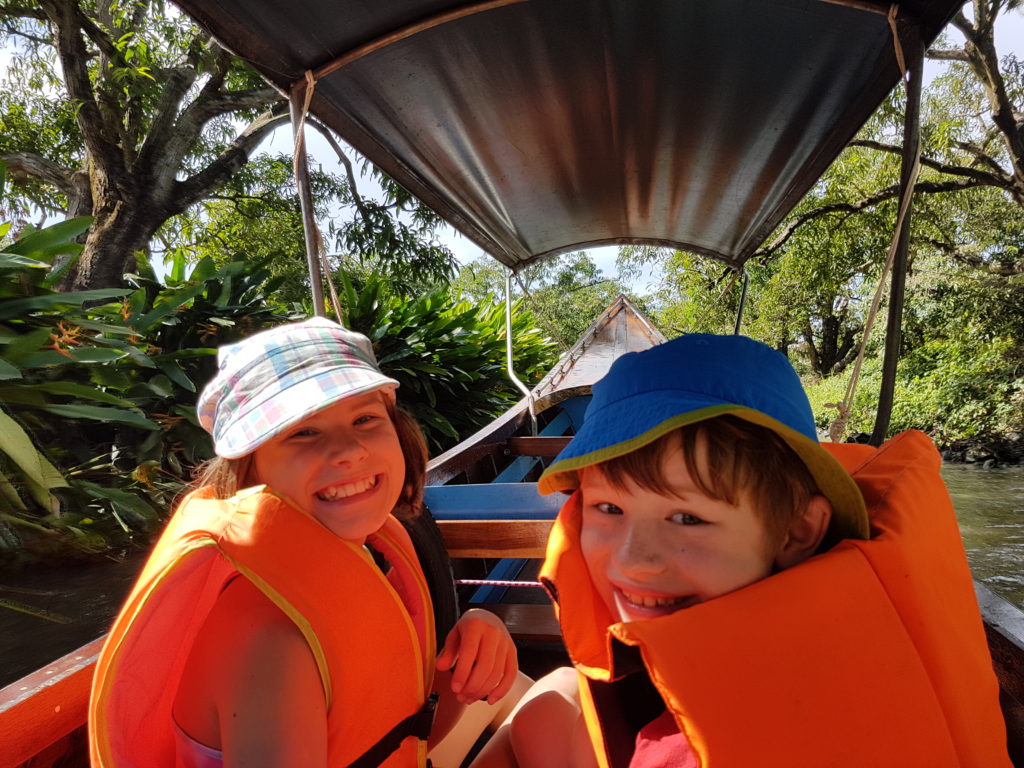 At the train market, the stalls are on either side of a set of train tracks. Every 2 hours or so when a train is coming in, the vendors move their stalls away, and once the train goes by, they move everything back. Bizarre. Note in the pic below, the kids are actually on the train tracks.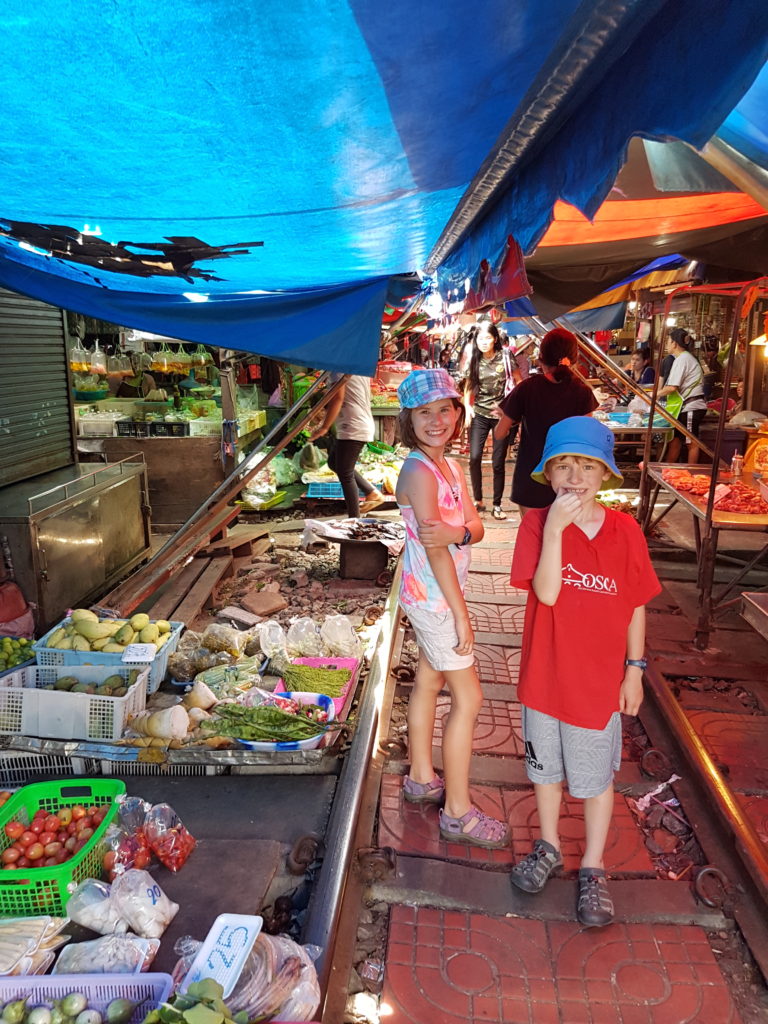 On Food:
I thought I'd write a bit today about food. The food has been spectacular in Thailand. There have been many dishes the whole family have enjoyed though a few have been too spicy for our liking. When I get home, I'm going to learn to make a mean Phad Thai, sweet and sour chicken & veggies, spring rolls, and mango salad.
In the past 2 days, we have tried many new things.
Durian – Disastrous! We all agree that this tastes about as good as it smells, which is a bit like raw sewage, even though we tried multiple varieties including monthong which is supposed to be better than the others – it was, but that wasn't saying much. Maybe it's an acquired taste?
Mangosteen – Delicious!
Mango – it's so fresh here, I've never tasted it like that in North America!
Jackfruit – we were pretty neutral on this one
Coconut Ice Cream – Blake tried it and claims it's delicious.
Rambutan – Delicious.
Fried Banana coated in coconut sugar – sounds good, but wasn't.
We didn't try the frogs or the spicy paste made from shrimp heads (the brown stuff in the pic above).
I'm working my way through Gordon Ramsay's masterclass on cooking while we are here, and that's making me miss being able to cook, but we are now about half way through our trip, so I'll be back soon enough 🙂
A couple of additions to the list of signs that made me laugh: